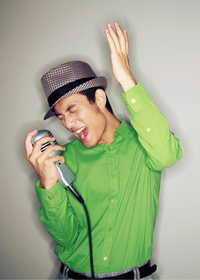 Do you have trouble remembering how your song goes?  Have you tried to memorize a new song and are still coming up blank when you try to sing it to the track without the video or voice prompts? I feel your pain.
Singing along to backing tracks requires careful listening and an understanding of what's happening in that song. The tracks are very unforgiving of errors. If you come in at the wrong time, the entire performance could be a disaster.
In the past, the belief was that you could merely sing a song over and over and that would be enough to prepare you for a rockin' performance.  Although repetition is part of the process, it isn't the full picture.  To truly learn a new song, several factors need to be taken into consideration. 
1. Location. Location. Location 
When I am learning a song, I like to situate myself in a place where I can listen to the song without distraction. My favorite place is my studio. Here, I can lock the door and play and repeat the song I am learning endlessly without feeling like I am bugging anyone. It also keeps people from bugging me. This allows for focused practice which is the most important factor in learning a new song.
2. Study the Singer's Voice 
I start by focusing on the vocal. I like to have the lyrics printed out in front of me while I listen to the recording. I essentially study the song word by word, phrase by phrase, carefully listening for things like breath, changes in register (chest voice or head voice), interesting word pronunciation choices, and the timing of phrases. This part requires that I listen through the song several times and I tend to make notes as to what I hear on the lyric sheets. 
3. Study the Music 
I continue to listen to the song but now change my focus to what is happening musically. What instruments are heard in the recording?  What are the instruments doing?  More often than not, there are clues as to where you are in the track based on what certain instruments are doing. Is there a musical line off the top that may repeat in other places in the song? This could cue you as to when you need to start or when you should sing a particular part of the song. Are parts of the song busier than other parts? A vocalist often follows the energy of the track in performance. If the track gets quiet, often the vocalist is quiet there as well. Learning to hear the music in this way is very important to learn to sing a new song. If this is new to you, start by trying to hear one instrument at a time. I like to start with the bass guitar.
4. Focus on the Rhythm 
It's important to notice the feel of the song. Is it a slow ballad or a driving rock song? Is it bouncy and funky or does it feel more straight ahead? Does it skip along, or does it feel more like gentle waves? Does it make you want to dance or to sit and reflect? The important part is that you are familiar with the sensations of feel. Where are the accents or pulses? How does the music feel in your body?  The feel of the song can determine how the vocal lines are phrased so understanding and feeling this takes you a long way down the road towards learning to sing the song. 
Special Note: It's important to take note of the tempo and time signature. Determining the time signature makes it clear how many beats to count in each measure or bar. In pop and rock music, the most common time signatures are 4/4 (4 beats to the bar) and 3/4 (3 beats to the bar). Trust me, when it comes to singing over instrumental tracks, it's often necessary to count the measures of a song intro or solo/instrumental section to ensure that you come-in in the right place. Sometimes, there are no instrumental cues.
To determine the tempo or speed of the song, I will either google it or use an app to manually count the beats.  This is important because the tempo determines how fast to count the measures of the song.  There has been more than one occasion that I was at a gig where the arrangement notes that I had written say to count 4 bars off the top and, at that moment, I couldn't tell how fast to count those 4 bars.  But because I wrote the tempo on the piece, I got a better sense of how to count them. For example, a tempo of 80 beats per minute would suggest that I count more slowly than a tempo of 160 beats per minute.
5. Map Out the Song 
It's also important to take note of the arrangement of the song. This is the road map, of how the song goes. In what order do the parts of the song happen? For example, a common road map goes like this: Verse 1 to Chorus to Verse 2 to Chorus to Bridge and then to Chorus. There are many different ways that the parts of a song are arranged. 
When labeling the parts, know this - you might not know the official names of the parts of your song but as long as you know what your labels mean to you, everything will work out just fine. I have my own music language that I use to remind me of how the song goes.
6. Sing with the Recording 
After all that, you'd think that I'd know the song, but truthfully, now the fun begins. At this point in my learning, I'm ready to start singing with the singer in the recording.  The focus now shifts away from being hyper-focused on the recording to being focused on my own voice and how it fits in the song. 
Beware of Developing Dependence: When you start singing with the recording, it is very easy to continue to focus on the singer rather than yourself.  This can cause an almost unbreakable dependence on the recorded singer for everything from cues to meter to pitch. I've had several of my students fall into this trap. You need to focus on your voice aligning with the recorded singer. You need to listen to and hear your voice in relation to that singer. You need to focus on your voice.
Three Problems that Come From Dependence 
a) You tend to not hear your errors.  This is because the recording is filling in all the holes or gaps in your singing. For example, if you are singing a run and you only hit the first and last notes of the run (I hear this quite often), but, because you are focused on the recorded singer, you don't hear your missed notes. To you, it sounds perfect because the entire run is being sung on the recording and that's what you heard. You can't correct what you don't hear.
b) You never learn to find your own cues. The recorded singer will cue you to when you need to come in or how long you should sustain a note before starting the next phrase, etc. Take away the singer, and you have no idea how the song goes. It's important to learn to count measures, listen for instrumental or rhythmic cues, and feel your way through a song. 
c) Aligning your pitches to the singer in the track doesn't help you learn to memorize your pitches nor does it allow you to learn to hear your pitches in relation to the music being played. This part can be very tricky for some people.
When singing with the recording, I run the song from the top and sing along.  As long as I am matching the phrasing and pitches, I just keep singing. If I fall off, I pause the track, listen to it, sing it without the track, and then start the track from the beginning again. I always start at the beginning with each run-through.  This is the repetition of focused practice.  I have found that by doing it this way, by the time I'm finished, I remember the song really well. 
7. Sing with the Instrumental Karaoke Track (without video prompts)
Once I can sing the song through without stumbling, I start singing the song with the instrumental track. Sometimes I find that I haven't learned the song as well as I thought and I have to go back to singing it through with the vocalist but I keep going back to singing it with the instrumental track.  This is the goal: freedom from the singer and the vocal cues. 
8. Learn the Lyrics 
Now it's time to memorize those lyrics. They can be challenging to learn.  One thing that really helps me with lyrics is writing them out. In the days before google (yes, I'm that old), if you wanted to learn a song from a recording, you'd need to play the song, pause it and write down the lyrics that you heard. It took a long time to do but it helped to absorb and memorize the lyrics. 
For a show that I did a couple of years ago, I wrote out the lyrics in my relaxed preshow state from memory while singing the words slowly in my head. I was shocked at how effective this was. I had no trouble recalling those lyrics at that show.   
9. Practice and Repeat 
Once you've learned the song, it's now important to practice it enough times to have it feel comfortable and familiar.  Focused practice coupled with repetition is the only way for most of us to learn a new song. I have found that singing a song over and over also allows for my own interpretation of the song to evolve. 
10. Call in the Experts 
If you've spent focused time learning and practicing your song and it still doesn't feel right, you might want to seek out a voice teacher or coach. Often a voice professional can help you polish your song and potentially spot issues that could be making the song more difficult to sing. A voice teacher can hear what you can't. That's what we're trained to do. And sometimes having a professional opinion can help you feel better about performing your song, especially when they assure you that you are ready and singing it well. 
Well, that's it in a nutshell.  Learning a new song requires focused attention and repetition. It's important to become familiar with the track and how the song goes. Once you have learned the song, it's very important to start practicing with the instrumental version of the song as soon as possible. Learning the lyrics sometimes takes a little more effort and might require that you write them out. Last, sometimes you need to find a good voice instructor to help you polish your song. 
By the way, if you are looking for a voice teacher, I have some limited availability for private one-on-one lessons in Kamloops, BC, Canada, or online via Zoom anywhere in Canada. I have students in such places as Toronto Ontario, Calgary Alberta, Edmonton Alberta, Saskatoon Saskatchewan, and Vancouver BC.
I would be honored to help you become the best and most confident vocalist that you can be.