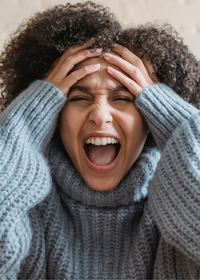 I was out at a pub enjoying the freedom of eating inside a restaurant without a mask when a musical duo started up. They were two young men performing with their instruments.
Initially, I was excited that this pub had decided to host live music.  Then one of them started to sing. The stuff in his lower register sounded great but as the melody led him to higher notes, I noticed that his voice started sounding abrasive, strained and pitchy.
With all my heart, I wanted to approach him on his break and offer some help with this very fixable vocal problem, but I just didn't know how to broach the topic without offending him. 
I knew that what I was hearing was called 'pulled chest.' 
So what is pulled chest? 
Pulled chest is a condition where the vocalist attempts to keep the resonance of the lower range when attempting to sing higher pitches. So, generally, without getting too heavy into voice science, this is my understanding of this issue. 
The vocal folds (or vocal cords) live in the Larynx. The larynx is the protrusion that you can feel at the front of your neck. In men, it's also called the Adams apple. Can you feel yours? 
In order to phonate, or make vocal sounds, generally, we use two main sets of intrinsic muscles, each controlling different aspects of the voice. These muscles live inside the larynx and their main role is to lengthen, shorten, open and close the vocal folds.
For our lower range, the main muscles that are used are called the thyroarytenoid (TA) muscles. These muscles are responsible for shortening and thickening the vocal folds, allowing for deeper sounds (chest voice). For the most part, these are the muscles that are engaged when we're speaking.
To get to higher pitches, we engage the cricothyroid (CT) muscles. These muscles are used to stretch and thin out the vocal folds. 
Try this: Put your hand gently on your larynx and then sing your lowest note. Can you feel the vibration?  Now slowly raise the pitch of the note that you're singing (meaning sing higher notes). Can you feel the larynx rise? 
Keep singing higher and higher.  You will probably reach a point where you can hear that your voice starts to sound and feel different. It could sound strained or hooty. It could kind of sound yodelly or intermittent; your voice might even crack.
Try going lower and higher over the place in your voice where you feel a shift.  What do you feel?  What do you hear? 
What is happening? 
What you are feeling/hearing is your TA muscles passing over control to the CT muscles. This part of your voice is called your transition.
Because our TA muscles are used for speaking and yelling, they tend to be much stronger muscles. This can be a problem when trying to get to your higher register. 
If your TA muscles resist releasing and hold on when going through your transition, it causes all kinds of problems. First, your voice can get abrasive and yelly and your pitch tends to be less precise. There is a tendency to open your mouth wider, squeeze at the vocal folds and use more air which exacerbates the problem.
All this causes your throat to start feeling really tight and fatigued because you're forcing your larynx is stay quite high in the throat. This is pulling chest.
Aside from sounding awful, this is a problem because it tends to tax the voice so singing several days in a row becomes challenging. But also, it can lead to vocal injury such as nodules or muscles tension dysphonia. 
Of course, if you keep raising the pitch, eventually the TA muscles must let go. When this happens after pulling chest, you will likely crack, flip flop, or yodel.  There won't be a cohesive, smooth sound to your voice and the 'after transition' voice (or head voice) will likely be overly breathy and weak. The good news is that this is an fixable problem. 
So, what can you do? 
My first suggestion would be to contact a trained voice instructor and enroll in lessons. If this isn't an option for you, you can try a few of these exercises: 
1. Sing the passage that you are having trouble with by humming it into a straw immersed into a glass of water. This is a semi-occluded exercise used to balance the voice. Semi-occluded is a sophisticated way of saying that your mouth remains partially closed.
Start by placing a straw between your lips and just hum through the straw. Then place the straw into a glass of water filled about a quarter of the way. Then hum that same part of the song into the straw while in the water.
Don't blow. Just hum lightly. You can also try taking your range from the bottom to the top into the straw as an exercise. 
The next two exercises employ the use of vowel modifications. Understanding the mechanics of vowels is an almost magical solution to many singing issues as certain vowels can lower or raise the larynx and change the shape of your mouth and throat. Certain changes make it easier for the TA muscles to pass over to the CT muscles. 
2. Try doing some reverse arpeggios starting on a note that you would consider to be at the top of your range and keep moving lower until you get through your transition.
An arpeggio is a broken-up chord. So, in the key of C major, you'd sing C then E then G. I have my students sing C then E then G then the C above and then back down. So, a reverse arpeggio would have you singing the higher C then dropping down to G then E then C then back up to E then G then higher C.
Do the reverse arpeggios using a "Bou" sound like Book or a "Wou" sound like would. Be careful not to let the vowel widen as you get higher. Keep the vowel narrow. 
3. Try singing the passage replacing all the words with either "Wou" or "One." Put your hand on your larynx and say the word "One." Did you feel your larynx lower?
While you are singing the passage using "Wou" or "One," pay attention to the sensations in your mouth, tongue and throat. Notice where your larynx sits. Notice the placement of your tongue and the shape of your mouth.
After you've done the exercise a few times, try singing the passage again with the original lyrics but this time, try to emulate the same sensations that you had when doing the exercises.
Were you able to keep your larynx in a more neutral position? What did your tongue do? 
So that's it in a nutshell. There is actually a lot to the voice. Building a well-balanced voice requires time and dedication just like any other instrument. Be patient with yourself. Be gentle.  And if you would like to enroll in some lessons, I'm happy to help. I have some limited availability. 
For more info on private lessons, click HERE  
Happy singing.